My high school college advisor and personal hero recently completed an Ironman (!!!) and I wrote her a congratulatory email because, well, clearly congratulations were in order. It was the first time I'd been in touch with her for a couple of years, so we emailed back and forth a bit, which was lovely. Then my dad emailed me today to tell me that she quoted one of my emails on her blog! How cool is that? Check it out
here
.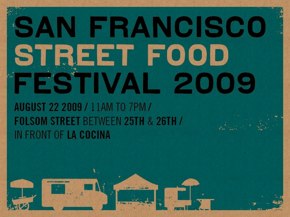 Phew, that's all for today. I'm back from what turned into a five-hour volunteer shift at the
Street Food Festival
. I was taking orders at the
Estrellita's Snacks
booth, which was serving
pupusas
, 
tamales
, and
agua fresca
. It was INSANE. I took well over 400 orders and was the only person at the booth with a solid command of the English language (thank goodness I speak Spanish!), which meant I never stopped talking for more than about two seconds at a time. Believe it or not, it was also fun, albeit the kind of fun that makes you want to lie down and watch trashy TV for the rest of your life. I can't imagine how Maria and her helpers are going to make it to 7:00. They are way tougher than I will ever be. But I knew that already.